The world is ready for your awesomeness and it's time to make you impact.
Social media is such an amazing tool, but it's a borrowed platform. Wouldn't it be great to have your own space on the internet for people to find you and connect with you?
A fully customised website that will wow your potential clients and help your business to run strategically.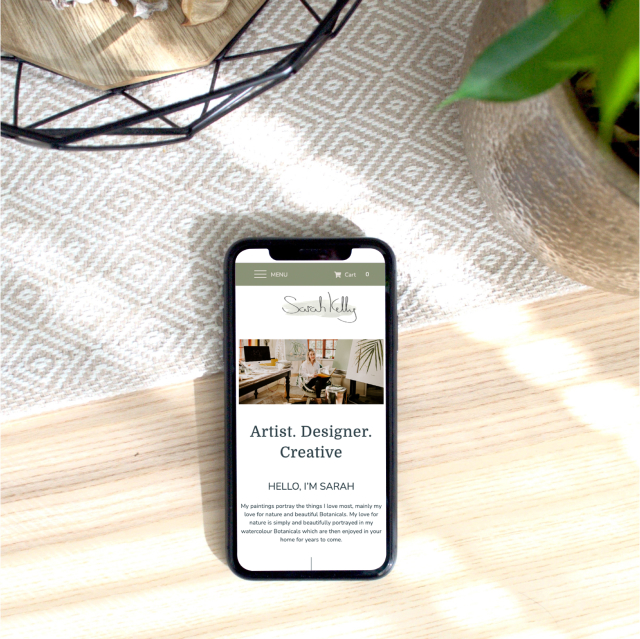 Allow people to shop from anywhere with an ecommerce store that delivers a seamless experience for your customers.
Update or complete reimagine your brand so that it aligns seamlessly with your business's vision and goals.
I'm a wife and a mamma to two little dudes. During the week, you'll find me working mornings and hanging out with my kiddos in the afternoon. On the weekends, you'll find me drinking good coffee, gardening, and doing the occasional run... when I've had enough coffee to inspire me!
I'm all about getting to know my clients. I love becoming an integral part of their brand's journey. It's never just a 'one and done' service.
When we work together, you will get a creative partner who has been in the design industry for over 10 years. Together, we will translate your vision into a stunning and functional website that is intuitive and reflects your brand authentically.
You're in the right place if you're looking for a full-service website designer and developer who can help you to create a website that is functional, user-friendly, easy to update... and that you absolutely LOVE!
Your website should be an extension of you AND delight your customers, effortlessly supporting you and your business goals, all hours of the day and night.
Are you ready to create a space on the internet
that you love?
I'm the person to help you:
Formulate a path
to success
Your very own home
on the internet
Keep your website in
top condition
Let me be your website bestie.
Together, we can make website wizardry!
"Mel was truly so helpful with her professional advice and honest opinions on saving my existing website. A brand new look and feel, capturing exactly what I had in mind. The quickest outcome and easiest transition! Loved all the social content to post too! Can't thank you enough!"
'I approached Mel to create a website for House@9 as I had seen some of the work she had done for other businesses and loved her style.
I am over the moon with what she created for my business, I had no major changes to suggest, she understood exactly what I was looking for. I feel the elegance of the site reflects exactly the message I wanted to portray. She continues to maintain the site for me and I am most grateful for her professionalism, open prompt communication and easy manner. She has been great at teaching me how to update info on the site and is always there to help out.
I cant recommend her more highly."
"Mel is truly gifted at taking the ideas that you have and making them even better than you imagined.
I have been with her since the very beginning of my business, right from the logo. As my business continues to grow and change, I know Mel will be right there alongside me, shaping the way it is presented to the world. Thanks to her approach to design, my brand will always stay current yet true to me."